!! EXCLUSIVE LIMITED OFFER !!

Order your "OUT & LOUD" ticket + DISINFECT Patch, Sticker and Sampler


for €99,00 ONLY!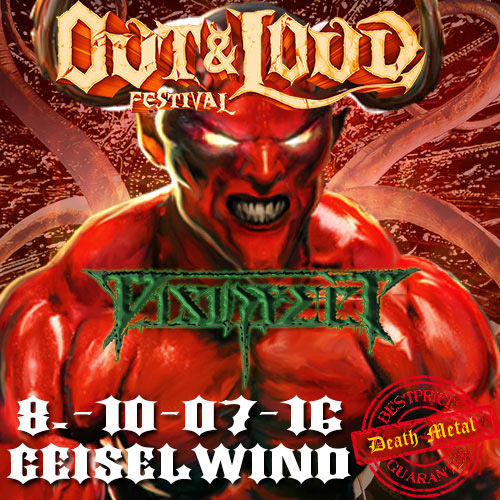 ---
---
---
---
---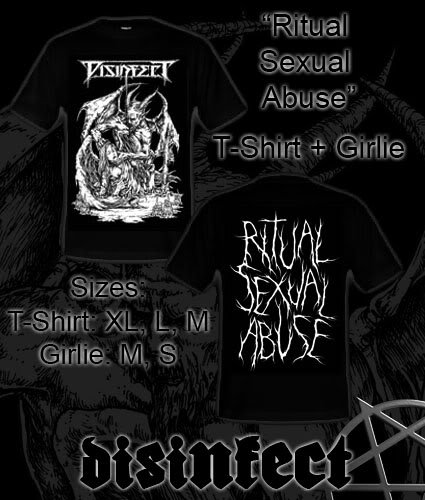 ---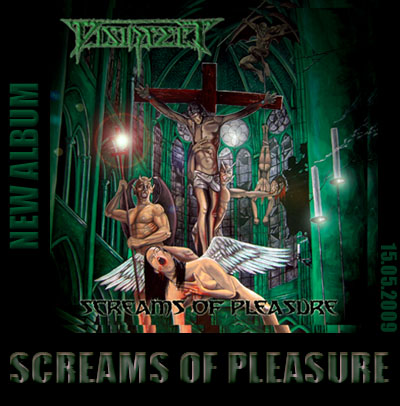 Recorded at Hertz Studio (Vader, Decapitated...)
Cover by Ron Schaffer ron-necrosist@web.de
Layout by Das Kompendium

Track listing:
CASKET BORN
SCREAMS OF PLEASURE
SLOW TORTURE
RITUAL SEXUAL ABUSE
NORDIC THUNDER
DECLARED TO DEATH
MELTED BY HEAT
HUMAN SCUM
FOXY DISINTEGRATION

---
---
New guestbook is online. Feel free to fill it with comments.
---
Unfortunately Stephan second guitar, left the band because of serious health issues. It´s no more possible for him to play in the band, specially the live performance. We wish you all the best bro!
---

Upcoming:

18. Jun 2016 17:00 (Open End) Party San Warmup
DISINFECT, ICHORID, ARKUUM, ENTGEIST Jugendhaus Epizentrum Brackenheim
Georg-Kohl-Straße, 74363 Brackenheim

08.-10. Jul 2016 OUT AND LOUD FESTIVAL 2016
AEONBLACK, AMPLIFIED MEMORY, ANNIHILATOR, ANTIPEEWEE, ARCTURON, BEHEMOTH, BLACK MESSIAH, BRAINSTORM, CALIBAN, DARK TRANQUILLITY, DEADLOCK, DELAIN, DISINFECT, DRESCHER, EISREGEN, ENDLEVEL, EPICA, FINNTROLL, GLORYHAMMER, HATEBREED, INCORDIA, KATAKLYSM, KISSIN' DYNAMITE, KREATOR, LEGION OF THE DAMNED, MORTAL STRIKE, MORTHUS, OVERSENSE, PAIN, POWERWOLF, SONATA ARCTICA, SCARNIVAL, SECRETS OF THE MOON, SOULBOUND, STALLION, SUICIDAL ANGELS, SUNDOWN, TEXAS CORNFLAKE MASSACRE, TRINITY SITE, WALLS OF JERICHO, WINTERSTORM, WITHIN TEMPTATION
Konzertgelände in Geiselwind
Played:

19. Mar 2016 20:30 Full Metal Night Live-Gig
DISINFECT, DAWN OF DREAMS, METHYER Hexenhaus Ulm
Mähringer Weg 75, 89075 Ulm

30. Apr 2016 19:00 Korntaler Rocknacht - Metalnight
DISINFECT, COREXIT, FLAK, PLEASUREAGONY,
Jugendhaus_Korntal
Martin-Luther-Straße 30, 70825 Korntal-Münchingen

12. Jun 2010 20:00 Fick & Destroy Festival, Ulm, Baden-Württemberg

12. Aug 2010 20:00 Club Die Stadtmitte Karlsruhe, Baden-Württemberg

17. Aug 2010 20:00 Bierkeller Tübingen, Baden-Württemberg

18. Aug 2010 20:00 Der Cult Nürnberg, Bayern

05.Dec.2009 20:00 Rock it - Aalen, Baden Württemberg

23.Jan.2010 20:00 Beatbarracke - Leonberg, Baden-Württemberg

26.Feb.2010 18:00 Night of Suffer Festival - Stuttgart, Baden Württemberg

27.Feb.2010 20:00 Night of Suffer Festival - Stuttgart, Baden Württemberg

14.Nov.2009 20:00 Flesh Party 12 - Leopoldov

24.Jul.2009 14:00 Riedfest Opemn Air - Rohr

25.Jul.2009 14:00 Eisenwahn Festival - Obersinn, Bayern

27.Jun.2009 20:00 KD-Open Air Metal Fest - Brezova, Sokolova

12.Jun.2009 20:00 Club Palach - Croatia, Rijeka
13.Jun.2009 20:00 Caffe bar Mimoza - Croatia, Pula

04.Apr.2009 20:00 Club Die Stadtmitte - Karlsruhe, Baden-Württemberg

08.Nov.2008 20:00 Rot n Slay Festival - Blaubeuren, Baden-Württemberg

05.Dez.2008 20:00 Pfalz Destruction Festival 4 - Landau, Rheinland-Pfalz